Enclosed Storage Units
Built to Last
Our enclosed Bradyl Bins™ offer the privacy and security of a public self-storage facility inside your building.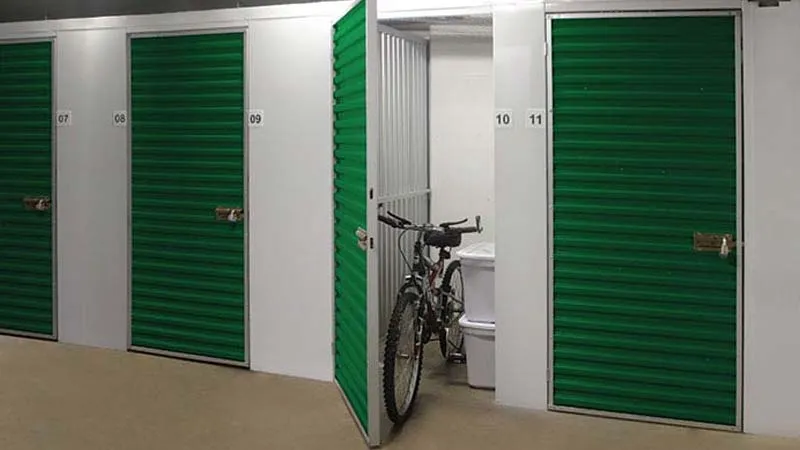 SWING DOOR
Economical corrugated swing doors require minimal headers and open a full 180°.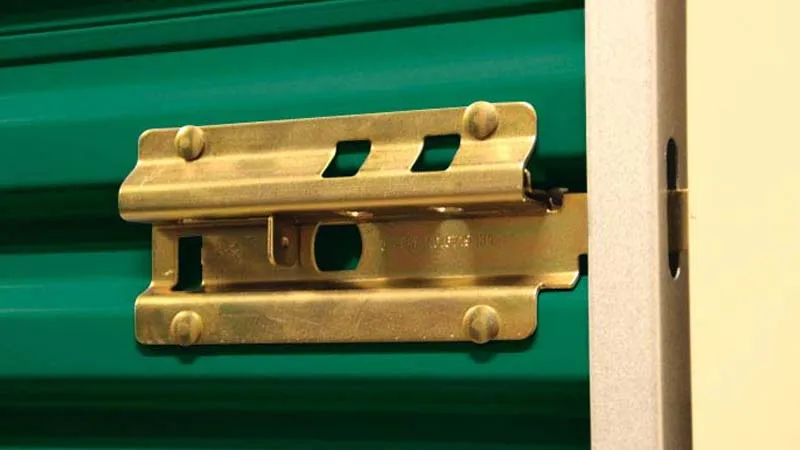 SLIDE LATCH
Factory installed on the swing door. Can receive a resident padlock and property management overlock.
WIRE MESH CEILING
2″x2″ 16-gauge wire mesh ceilings are a cost-effective theft deterrent while still permitting penetration of existing fire suppression systems and lighting.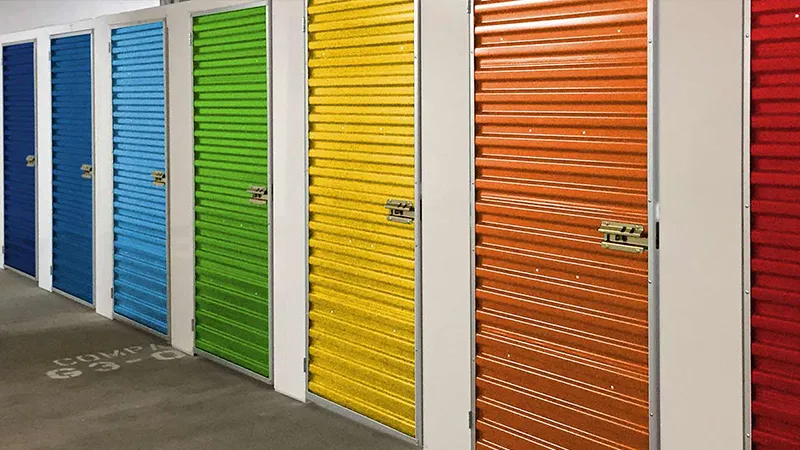 DOOR COLOR OPTIONS
Select door colors and browse upgrade options to suit your specific needs.
After
Before
For about the same price as wire mesh on-site storage, give residents in your multifamily properties
The added convenience of storing personal items in the same building or complex where tenants live offers a powerful sales point. The Bradyl Bin™ provides improved privacy, which is a major concern for residents storing personal items and helps to deter theft. Wire mesh storage is not designed or built with security in mind and is often an easy target, especially for 'quick grab' thefts.
Bradyl Bins™ are constructed with durable and damage-resistant materials and also allow for advanced locks to increase security. Our survey showed that 73% of respondents who rent wire-cage style storage at their apartment building are concerned about privacy and security.
Transform Unused Space Into Added Revenue
Self-storage has become a $38 billion industry. Driven in large part by limited options in apartment and condo units, storage offers an amazing revenue generating option for multi-family facilities. Tenants may be downsizing, transitioning to a new city, or desire to safely and securely store mementos, seasonal items, or other valuables outside their living quarters. Many multi-family facilities have a goldmine of unused space just waiting to start generating revenue. Bradyl Bins™ can generate revenue of up to $5 per square foot, offering an abundant and fresh opportunity to transform unused space into increased profit. Our independent survey highlights that residents will pay an additional $5-$30 more per unit for Bradyl Bins™ compared to the other less private options.
More Attractive Than Wire Bulk Storage Lockers
Wire mesh storage units at multi-family apartments or condos look like an afterthought. Open and exposed, tenants' belonging lay bare for anyone to see. The Bradyl Bin™ is modeled after professional off-site storage facilities, transforming unsightly spaces into attractive and personalized secure storage. The Bradyl Bin™ is specially designed to fit into tight or awkward spaces as well as other unused areas. Privacy and customization make Bradyl Bins™ the perfect solution for bulk storage lockers. Bradyl Bins™ offer a choice of 
door colors
 and other
attractive options
.
Residents Prefer Bradyl Bins
TM
Our independent survey highlights the desire among tenants to have a better storage option than wire mesh units. fact, 98% of surveyed apartment tenants chose Bradyl Bins™ over wire mesh. A growing number of apartment and condo tenants actively seek reasonable and convenient storage solutions, often moving them off-site, an inconvenience for them and a missed opportunity for your bottom line. Offer your tenants their preferred storage solution; offer them the Bradyl Bin™.
Apartments, condos, or commercial. We are flexible and customizable
Think your property doesn't have sufficient space for additional resident storage? Think again. Bradyl specializes in identifying often-overlooked space and implementing innovative storage solutions for these hard-to-fit or limited areas.
THE BENEFIT OF ADDED FEATURES AND ENHANCEMENTS AVAILABLE
Bradyl Bins™ are loaded with great standard features, but also offer wonderful enhancements as well. Some of our most popular are:
Master Keyed Core Lock. Improve security options by providing tenants locks that cannot be removed by bolt-cutters. A master key helps to ensure access and security when needed for management staff.
Roll-Up Doors. Roll-up doors provide even more convenience for larger units and/or tighter quarters. Roll up doors can be manufactured up to 6'0" wide and 6'10" high.
EFFICIENT AND BUDGET-FRIENDLY
Bradyl will work within your budget to help find the solution to optimize your space and meet your tenants' storage needs. New construction projects operate on razor-thin timelines and Bradyl will ensure the addition of our units never interfere with the deadline. We have the experience to work with new construction projects to ensure Bradyl Bins™ are in place, secure, and ready when the facility opens. Our dedication to timeliness and quality is provided to all clients in both existing and new facilities.
COST-EFFECTIVE REVENUE-GENERATING INNOVATION
A wire mesh storage unit may seem to be the most cost-effective solution for apartment facilities, but the Bradyl Bin™ is about the same price (or even less!) and offers a far more attractive storage option. Give the convenience, security and privacy of Bradyl Bins™, tenants are willing to pay more for Bradyl Bin™ storage. In fact, 94% of survey respondents stated they would pay $5 more per month for Bradyl Bins™ over wire mesh. 20% said they would pay $30 more per month!
For about the same price as wire mesh on-site storage, give residents in your multifamily properties the privacy, security and quality of Bradyl Bins and Bradyl Boxes.
Get Started Today
We would be happy to help you make an estimated calculation of income per square foot for you. ​​​​​​​Fill out the form below to get started.