1510 Clarendon Blvd, Arlington, VA 22209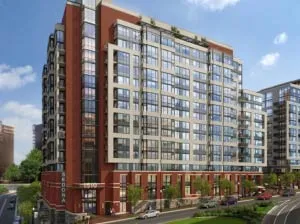 The Challenge
How do you best utilize space that was intended for retail use to create on-site storage for residents?
The building's owner wanted to utilize space originally intended for retail use. Resident storage cages were proposed as a potential use for the space but the awkwardly shaped space was not best utilized with standard wire mesh partitions, and the owners desired a more attractive option for their Class A property.
The Bradyl Solution
Bradyl completed an on-site assessment of the space and consulted with the property's ADA consultant to ensure that the storage unit layout/ design incorporated all desired ADA accessibility features. Bradyl was tasked to design and install twenty-five new storage units of various sizes in the allocated space. The property manager pre-advertised the incoming apartment storage units and generated a waiting list for the planned storage units.
The Outcome
In addition to new adding a new amenity, the buzz generated by the pre-advertising resulted in all of the storage units being rented out immediately upon completion of the installation. Not only are residents able to take advantage of this on-site storage option, the property is also renting the storage units for up to $4.73 per square foot. The management company, JBG, and the owners of the property, ASB Capital Management, are thrilled with the results.
In Their Words
Lindsay and her team did a great job for us at a large multi-family project we own in Northern Virginia. Her team was very effective in designing and implementing a strategy for previously unutilized space, which led to immediate increases in income.
I enjoyed working with her on this project and would recommend her services to anyone looking to add new sources of storage income across their portfolio.
Nicolas Franzetti
Senior Vice President at ASB Capital Management
Get Started Today
We would be happy to help you make an estimated calculation of income per square foot for you. ​​​​​​​Fill out the form below to get started.