Wanting more storage space
Storage space is one of the top requests that many property managers receive. Offering extra solutions for condo tenants who want more storage space can set your property apart from competitors. In a recent multifamily survey, more than 62% of respondents said storage outside their apartments was the most important feature when looking for a new home. Not only do tenants want space for their everyday items, having a spot to store things they want but don't always need is crucial to satisfaction. From bikes to holiday decorations and seasonal wardrobes, everyone has stuff they need but not all the time.
When it comes to storage solutions for condo tenants, there are several options with the most popular being convenient, on-site storage. Even beyond providing storage on your property's premises, having it located within the building where tenants live is an even better option.
Bradyl offers a variety of storage options to fit any property's needs. Not only will providing additional on-site storage space please your tenants, you could see a solid ROI. Charging rent for storage to condo tenants is a great way to bring in extra revenue and satisfy your residents. The cost to install on-site storage, like those options provided by Bradyl, can be quickly recouped.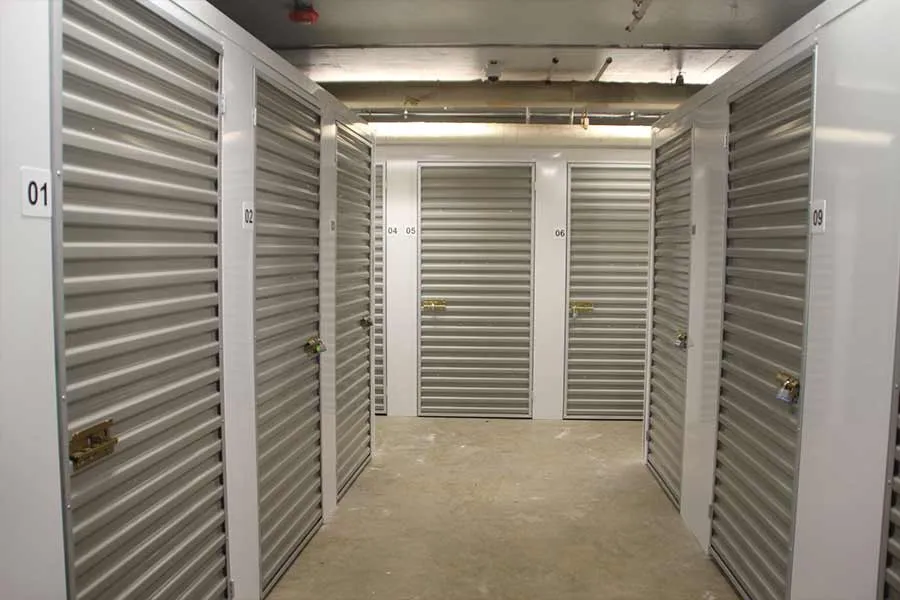 After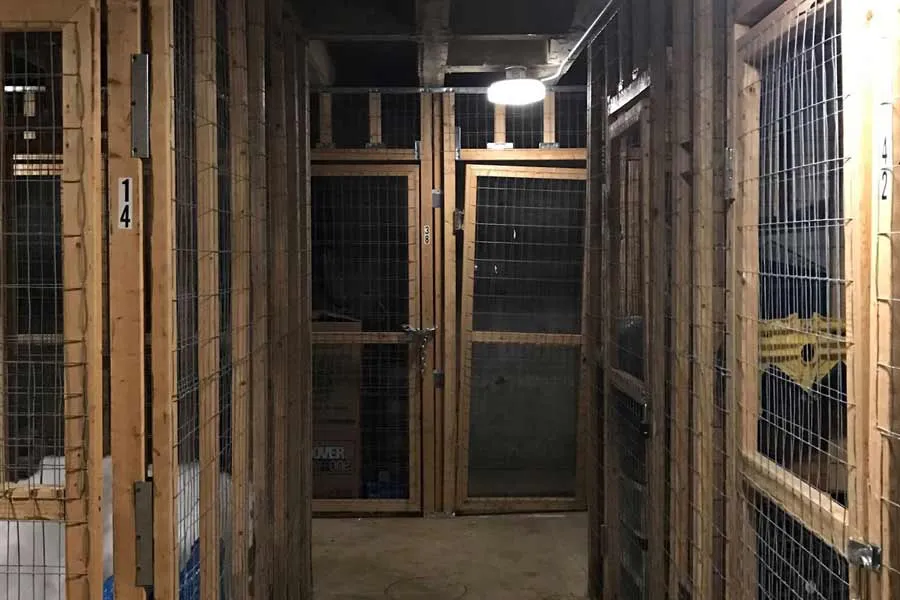 Before
BRADYL BIN – ENCLOSED STORAGE UNITS
When you install Bradyl Bins, you open the opportunity to offer for-rent storage space solutions for your condo tenants. Our storage solutions are a cut above other options on the market. Beyond traditional on-site storage, Bradyl Bins can be customized to fit the space you have available meaning that residents won't have to venture outside their buildings to access their belongings. In addition, our storage solutions are private and secure. There's no need to worry about prying eyes or hands when it comes to tenants' belongings in storage. Each individual unit is secured.
BRADYL BOX – OVER-THE-HOOD STORAGE UNITS
The Bradyl Box is an opportunity to add valuable storage without taking away from the space tenants currently have. Configured to fit your parking space, the Bradyl Box allows living in an apartment or condo to feel more spacious by decreasing what needs to be stored inside their unit. With the ability to hold up to 900 pounds and providing 72 cubic feet of storage space, it's the extra garage every tenant wishes they had.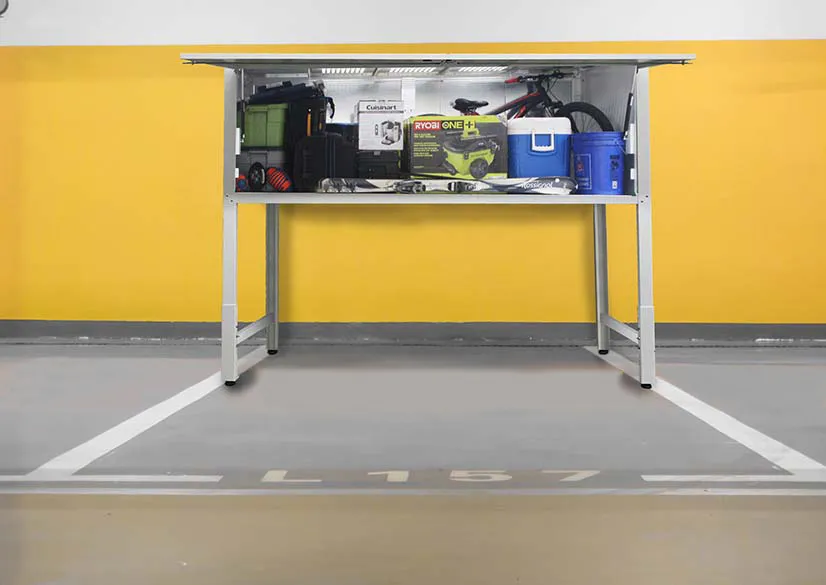 After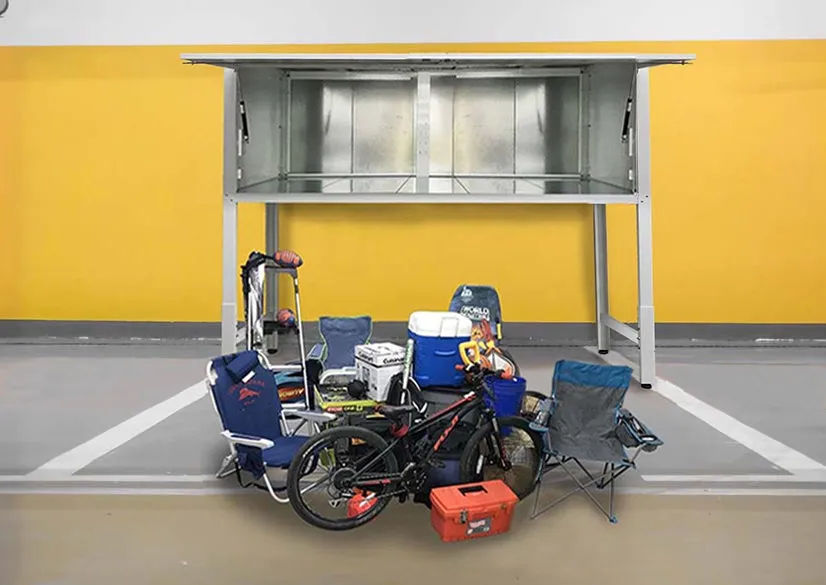 Before
Why Your Condos Need Rental Storage Units
Another option that can serve as a storage solution for condo tenants is for them to independently rent off-site storage units. While you can provide recommendations on what vendors to use, that's where your property's involvement stops. Off-site storage units are not only inconveniently located far away from where tenants live, but they don't provide storage that's as secure as an on-site alternative. No one wants to roll into a storage unit facility past dark, so there's a limited window when tenants can access their belongings despite the hours the facility posts.
Aside from the inconvenience of your tenants renting their own storage units, you won't have any way to ensure their belongings are secure and easily accessible. Additionally, you'll receive no revenue from renting storage to tenants and you risk the possibility of potential residents selecting competitors who do offer on-site storage.
The bottom line is that tenants want additional storage. Whether they secure it through your property, a competitor, or on their own, they'll find a solution that works for them. Be that solution!
Here some features that have made the Bradyl Box famous: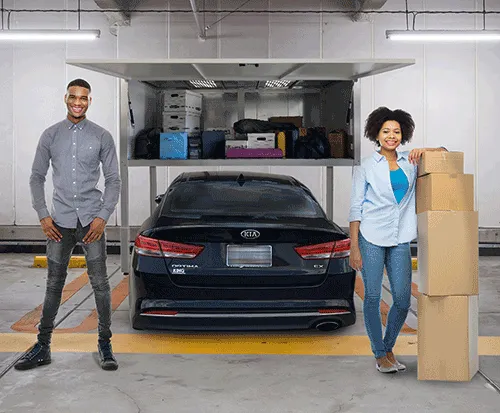 Fits over all cars, SUVs and most trucks by adjusting leg height
Fits within an 8' parking space
Freestanding
Anti-tip hardware included
Lockable gas strut assisted door for secure open/close
Ease of access
Roomy and convenient at-vehicle-storage
Powder coated paint offers rust resistance
Safety tested to UL performance standards
No minimum order requirements
Easy assembly, setup (basic hand tools included)
Weather protected use only
Vented top protects possessions
Bradyl Boxes turn empty garage space into secure, convenient storage. These over-the-hood storage units provide additional space within a covered parking garage setting. Parking areas are some of the biggest wastes of usable space at any multifamily property, but by installing our free-standing storage units, you'll enhance the appeal of your amenities and edge out the competition.
Functionality and Accessibility
The total height (adjustable) of a Bradyl Box is between 78.5 and 91 inches. This allows property owners the ability to provide a simple yet secure means of storing resident's personal items where it is convenient: where residents park. The Bradyl Box fits into any 8' parking space and accommodates all cars and most SUVs and trucks. The unit opens at about shoulder height  with gas strut doors that keep it from slamming shut.
Free-standing and fancy features aside, one of tenant's favorite parts of renting their own Bradyl Box is not having to wait for operating hours. Bradyl believes tenants should have access to their storage 24/7.