Solutions for Multifamily
An Innovative Approach
To Multifamily Storage and Lockers
Space has become such a commodity and it can feel like there's never enough. Bradyl Storage Solutions uses technology and design to optimize and maximize how you approach on-site apartment storage, providing a critical component that traditional solutions lack- privacy.
On-Site Storage Solutions for Business Growth
Not only will providing additional on-site storage space improve the living experience of your tenants and raise property value, but you will also see a solid ROI. Charging rent for storage space to apartment or condo  tenants is a great way to bring in extra revenue and satisfy your residents. The Bradyl Box can pay for itself within 13 months.
Bradyl Bins can generate revenue of up to $5 per square foot, offering an abundant and fresh opportunity to transform unused space into increased profit. Our independent survey highlights that residents will pay an additional $5-$30 more per unit for Bradyl Bins compared to the other less private options. 
It's time to transform unused space into increased profit. Contact us today!
Starting at $797 Per Unit, Installed!
For about the same price as wire mesh on-site storage, give residents in your multifamily properties
the privacy, securityand quality of Bradyl Bins and Bradyl Boxes.
Bradyl Bin – Enclosed Storage Units for Multifamily Common Spaces
Replacing the standard tenant storage locker that lacks privacy and security with the Bradyl Bin gives your property a competitive amenity and provides residents on-site storage they can rely on.
The Bradyl Bin checks all the boxes for what tenants and property owners look for in on-site storage including:
Economical
Modern
Functional
Doesn't consume excessive space
Isn't a large construction project
Easy to maintain
Profitable
Safe
High capacity
Bradyl never cuts corners, but can transform your empty corners into a revenue-growing luxury amenity with the private on-site storage solutions that your residents are waiting for.
Bradyl Box – Over-the-hood Storage Units for Apartment Garages
Optimizing space functionality is an artform and the Bradyl Box is the Mona Lisa.The Bradyl Box creates space out of thin air with its over-the-hood design.
Multi-family properties that have interior garage parking have a vast amount of  unused space that is virtually unrecognized. Offer another powerful selling point by providing  extra on-site, at-parking-level storage for tenants. Safe, secure, and sustainable storage makes the most of every cubic foot and will top your competitor's amenity list.
Here some features that have made the Bradyl Box famous: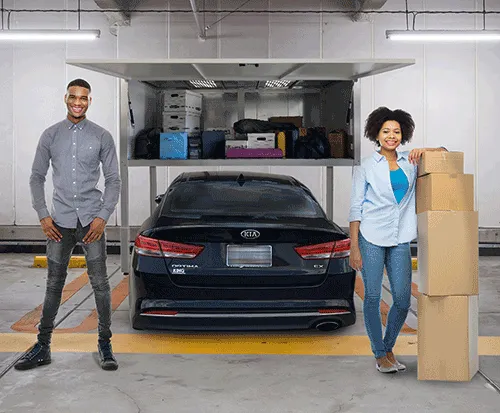 Fits over all cars, SUVs and most trucks by adjusting leg height
Fits within an 8' parking space
Freestanding
Anti-tip hardware included
Lockable gas strut assisted door for secure open/close
Ease of access
Roomy and convenient at-vehicle-storage
Powder coated paint offers rust resistance
Safety tested to UL performance standards
No minimum order requirements
Easy assembly, setup (basic hand tools included)
Weather protected use only
Vented top protects possessions
The Bradyl Box is an opportunity to add valuable storage without taking away from the space tenants currently have. Configured to fit your parking space, the Bradyl Box allows living in an apartment or condo to feel more spacious by decreasing what needs to be stored inside their unit. With the ability to hold up to 900 pounds and providing 72 cubic feet of storage space, it's the extra garage every tenant wishes they had.
Bradyl Boxes turn empty garage space into secure, convenient storage. These over-the-hood storage units provide additional space within a covered parking garage setting. Parking areas are some of the biggest wastes of usable space at any multifamily property, but by installing our free-standing storage units, you'll enhance the appeal of your amenities and edge out the competition.
Functionality and Accessibility
The total height (adjustable) of a Bradyl Box is between 78.5 and 91 inches. This allows property owners the ability to provide a simple yet secure means of storing resident's personal items where it is convenient: where residents park. The Bradyl Box fits into any 8' parking space and accommodates all cars and most SUVs and trucks. The unit opens at about shoulder height  with gas strut doors that keep it from slamming shut.
Free-standing and fancy features aside, one of tenant's favorite parts of renting their own Bradyl Box is not having to wait for operating hours. Bradyl believes tenants should have access to their storage 24/7.
How Property Owners and Tenants Benefit From Bradyl Storage
Bradyl's innovative approach to on-site apartment storage continues to be a win-win for property owners and tenants.
So, whether you are working on a new construction project and want to build in a valuable amenity or looking to improve an existing building by retrofitting unused space, Bradyl Storage Solutions has a product that is more safe, secure and private than industry alternatives. Bradyl will custom measure and build your apartment storage units and can accommodate low ceilings, structural supports, and even curved or angular walls.
We know your property needs to stand out and that's why we do things differently. The Bradyl experience goes beyond storage. It's working with a team of creative professionals who help improve the lifestyle of tenants everywhere and increase the property value of multifamily complexes by adding affordable luxury in the form of an economical amenity.
In the multi-family property business, Space Is Precious.
WITH BRADYL AS YOUR PARTNER, SPACE IS PROFIT.
Get an Estimate of PSF Income Potential For Your Building.
Indoor Bike Racks for Apartment Buildings
Indoor bike racks made by Bradyl Storage Solutions are often used in parking garages or other common storage areas. These space-saving wall racks are stackable and can share reserved parking spaces with cars, keeping bikes off the ground, out of the way and stored in a personalized location for residents.
Features and Benefits:
Single and two-tiered bike rack systems.
Single and double-sided configurations
Easy load and unload modular design
U-lock compatible
Ceiling, wall and floor mount options
Bradyl's apartment storage units like outdoor bike lockers and indoor bike racks are the solution for your multifamily property! Contact us to learn more about the options that bet fit your needs
Closets and Wire Shelving
From the simply functional to the simple extraordinary, Bradyl has a solution for every space. In addition to our many apartment storage units, we design custom closets to help maximize living space and keep belongings neatly organized – even in the most challenging or limited spaces.
Custom Closets
Bradyl Storage Solutions can optimize small spaces in apartments and add storage and organization for your residents with custom closets and Murphy beds. A variety of materials including wire, laminate, wood and melamine can be paired with embossed wood finishes, decorative pulls and accessories for a pleasing aesthetic.
Features and Benefits:
Variety of materials and accessories for a custom look and high-functionality
Optional Italian-made door and drawer profiles
Wood drawer boxes
Counter edge shelving
Increase property value and desirability
Ventilated Wire Shelving
Custom closets and shelving is a practical and cost efficient way to increase the desirability of your apartments. Bradyl's ventilated wire shelving easily fits builders' specifications and quotes can be provided from architectural drawings or linear footage. We can install quickly, without added cost and not sacrifice durable construction and usability.
Features and Benefits:
Adjustable and fixed shelving options
Quick installation
Organized item visibility and accessibility for residents
Versatile applications for high traffic and turnover units
Get Started Today
We would be happy to help you make an estimated calculation of income per square foot for you. ​​​​​​​Fill out the form below to get started.